Crypto cards are perhaps the best compromise between the old financial system and the new. They bridge the gap between the legacy fiat system and the future of cryptocurrencies. You might be a long term holder of crypto looking to spend some of your profits, or you might have decided to make the full switch to crypto and only occasionally spend some fiat ($, € etc.) to cover your bills. Or maybe you just want the convenience of holding your crypto and your fiat in the same wallet.
If you fall into any of these categories, you will probably find it useful to get yourself a crypto debit card. In this guide we explain what crypto cards are and how they work and explore the best crypto cards in each region.
What is a crypto debit card and how does it work?
Today, there are many more people into crypto than there were five years ago. In the US alone, an estimated 10 million people own Bitcoin. Though the space is growing rapidly, most merchants are yet to adopt this new technology and it remains difficult to find some that accept crypto as a payment method. That's where the crypto debit card becomes a great option.
A crypto debit card is exactly like your regular payment card, except that you have the option to load it with crypto instead of fiat. More specifically, you can hold crypto inside the wallet and the card provider automatically converts your crypto into fiat whenever you want to make a purchase. This happens either automatically or in some cases you have to make the conversion manually inside the wallet app. In other words, a crypto debit card can be used in the same manner as you would use any regular debit or credit card. For example, you can buy groceries, pay for petrol or book a holiday. Though you are spending your cryptos, the merchants are receiving payments in fiat.
TLDR: If you don't wan't to read the whole article, go for Crypto.com. They are available in almost every region: USA, Europe & Asia. The free blue card gives users 1% cashback on every purchase whether online or in stores. Higher cashback cards also exist. Users can top-up the card with crypto or fiat ( dollars, euros etc.). All in all, excellent product.
Why do I need a crypto debit card?
Without a crypto debit card, it can be very difficult to access the value of your cryptocurrency holdings in a timely way. The usual procedure to covert your crypto funds is to transfer them from your wallet to a cryptocurrency exchange, sell them for fiat and withdraw the proceeds to your bank account. Then, you need to wait for the dollars or euros to arrive in your bank account before finally being able to use the money to purchase from a merchant, be it online or in a physical store.
This process can take a long time. A bank transfer takes days to clear and stops you from quickly accessing the value of your holdings.
On the other hand, a crypto card lets you go completely bankless. You can have all your funds in crypto and stablecoins and spend them on the go with your crypto debit card whenever you need to. It makes the experience seamless by taking care of the crypto to fiat conversion for you. Of course, this convenience comes at a cost as most crypto cards charge a small fee for each transaction. You also lose self-custody as you need to keep your funds on the card's wallet app. However, depending on what your current needs are, a crypto card might be the best way to spend your crypto conveniently and cheaply.
Note: we advice self-custody for the majority of your crypto funds!
At this point, you might be convinced you need to get yourself a crypto card but with all the options available on the market, you don't know which to choose. You might have heard of cards offered by some renowned companies like Coinbase, or less known ones like Crypterium. The costs or services vary significantly from card to card; some might be free to order, offer lower fees, accept more cryptocurrencies or be available in more countries. It's easy to get lost and companies are not always very transparent when it comes to displaying the fees they charge - something we know the crypto community is hoping to see disappear!
To make it easier for you, Cryptotesters took a closer look at all the cards currently available on the market and picked out the best options in each of the following categories: lowest fees, highest card limits and most versatile. For the sake of transparency in our rankings, you can find the details of our scoring procedure at the end of the article. You will also find the definitions for all fees mentioned in the post.
Note, some companies offer tiered cards, restricting premium features and perks to paying users. To keep it fair we restricted this review to the basic account, or Tier 1, available to non-paying users. We reviewed a total of 16 cards and picked the few that really stood out.
Additionally, we split this review article up by region, focusing on the US, the EU/UK and APAC/Singapore. We assumed most readers would mostly be interested in a single region and so cards were compared within the same region. Often, the same card provider can offer different fees and limits per region, as they have to partner with different financial service providers and the terms set by those providers differ from region to region. We'll get started with the cards offered within the US, but feel free to directly jump to the region of your interest!
Crypto cards in the US
Most versatile: Crypto.com
Whereas most cards available in the US only support USD, the Crypto.com card supports USD, EUR, GBP and SGD, offering a zero-fee conversion between them for up to $2,000. You can load the card directly with BTC, ETH, LTC or XRP or convert one of the countless other cryptocurrencies supported on their wallet into any of the above before topping-up. However what really sets this one apart compared to its competitors, is the fact that it supports direct fiat deposits, whereas the other cards available in the US only enable crypto deposits. This makes it the perfect option for those of you looking to use this card with some of your fiat holdings.
Last but not least, the card gives you up to 5% cashback on every purchase made with the Crypto.com card. The lowest tier card which is free gives 1% cashback, the second costs 50 $MCO tokens ($250 dollar at time of writing), gives 2% cashback and comes with a free Spotify subscription. If you pay most of your purchases by card this cashback could add up to more than the up-front cost of the card! Let's say you spend $20.000 per year by card, this would net you $400 dollars just in the first year against a cost of $250.
Cheapest to use: Crypterium, Spend.com
Crypto cards offer a great deal of convenience for spending your crypto but convenience often comes with a price in the form of fees. Fortunately, companies like Crypterium and Spend.com offer both convenience and low fees! With their card, you can benefit from the lowest overall fees out of all cards operational in the US.
When it comes to card fees, Spend.com is practically free of charge. You can order the primary and secondary/replacement card for free and there is no monthly maintenance or inactivity fee whatsoever. Spend.com only charges a one-time $25 membership fee for activating your card, but when you compare their overall fee schedule to their competitors, this one-time fee is well worth it if you're going to be using the card often. Spend.com charges 0% additional charges for fiat to fiat conversion, 0% for crypto deposits, 0% for ATM withdrawals and flat-fee of 1% for all your crypto-to-fiat conversions.
Spend.com card
At a tie, we have Crypterium which also offers a 0% fee across the board! Crypterium requires a $25 minimum deposit to activate your card and charges $10 for a replacement card but that's about it. While you can only sign-up in the US, you can of course bring it with you anywhere you travel in the world, spend it anywhere VISA is accepted and still benefit from the easy crypto conversion into fiat.
Highest limits: Crypterium
Once again, Crypterium comes on top with some of the highest overall limits of the market. With their card, you can withdraw as much as $2,500 per day from an ATM machine and spend up to $13,000 per day. You can top up the card to a maximum balance of $50,000 dollars and deposit a maximum of $10,000 per day (or $5,000 per transaction).
Crypterium card
Honorable mention: Fold
So far this review only looked at the basic services of fees, limits and availability. Therefore, we decided to add a small honourable mention section for a card that didn't exactly fit in our categories but that offers some unique features and might be of interest to our users.
The honorable mention in the US goes to Fold App. Fold App is a service that allows users to buy gift cards for their favourite retailers like Uber, Amazon or Nike and earn Bitcoin in return. You can pay for the gift card with a normal debit card or through the Bitcoin Lightning network. This service has been hugely popular by itself but now Fold announced the launch of a new Fold branded debit card that allows users to spend at any merchant and earn 3% Bitcoin rewards on every purchase.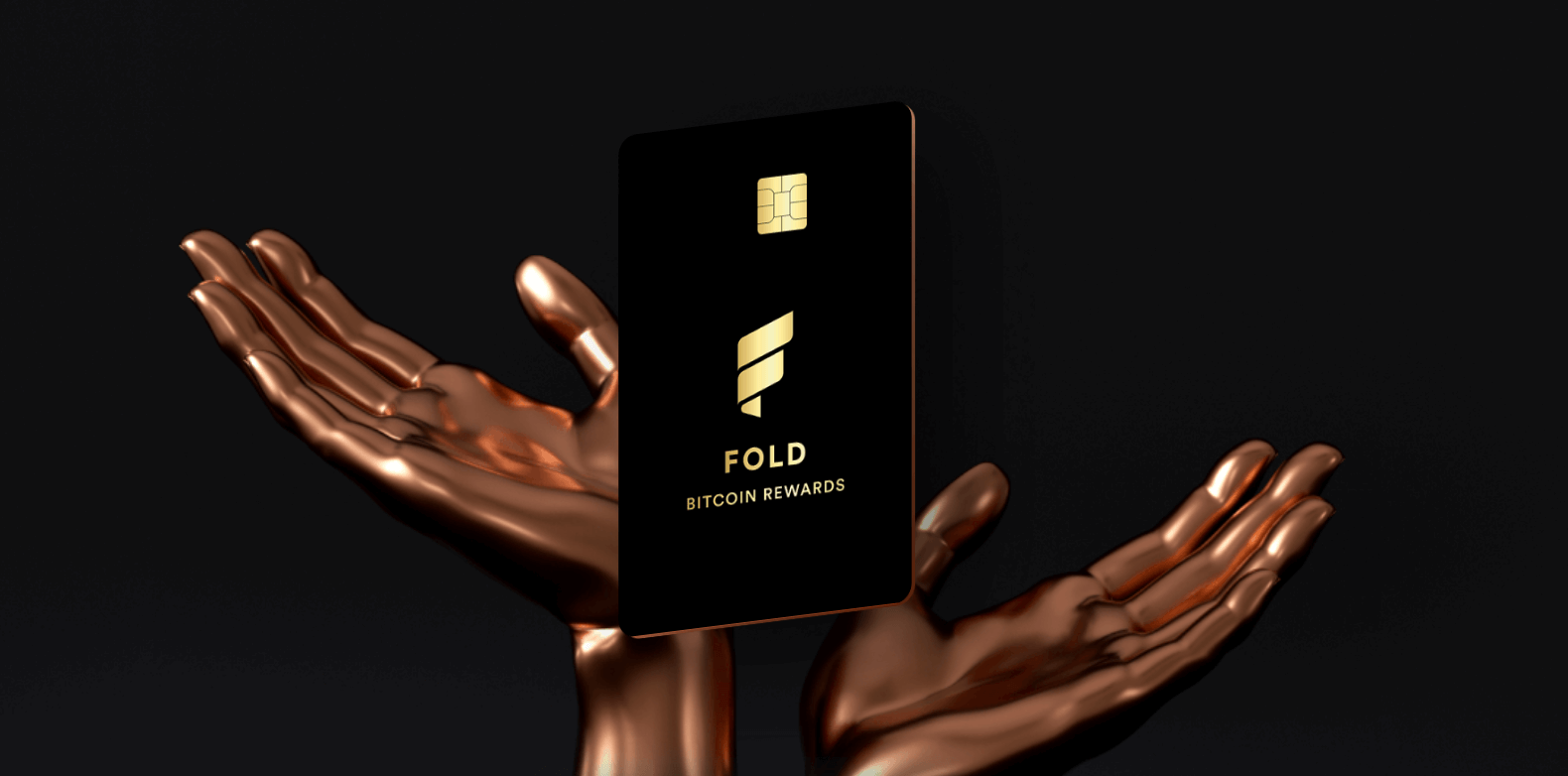 Fold card
Crypto cards in the EU/UK
Cheapest to use: Bitwala
This card really stands out for its competitive and transparent fees! Besides not charging you for ordering or maintaining the card, Bitwala also offers free fiat deposits done by bank wire, free transfers and ATM withdrawals as well as 0% foreign exchange fees with any other currencies from the SEPA area. The latter is especially interesting if you travel around Europe a lot. It means that whether you are in the UK, France, Denmark, Sweden, or any other country in the SEPA agreement, your base fiat gets converted at the real interbank exchange rate. Bitwala only charges a small flat 1% fee for converting your crypto to fiat. In addition to that, their crypto wallet is non-custodial, meaning you own your keys at all times. It's the best of both worlds!
Note this introduces an extra cost when converting your crypto to fiat as you need to pay for the network fee, which Bitwala has fixed to €1. Finally, if you lose the card or if it eventually expires, Bitwala will charge you €9.50, which is well worth the price given that Bitwala's service fees overall are very low and that you get an actual personal bank account!
Bitwala card
Highest limits: Bitwala, Coinbase
This was a tough match between Bitwala and Coinbase. There wasn't one big winner across the board in this case as both cards offer the highest limits in different ways. We thought they were both worth mentioning as it is up to you and how you use the card to determine which of the two is the best fit.
If you live in a cash-heavy country and need to withdraw money from an ATM machine on a daily basis, then Bitwala is by far the best option on the market. They allow you to withdraw up to €3,000 a day, against €250 and €500 for Wirex and Coinbase respectively.
If on the other hand you prefer spending with your card directly, then the Coinbase will be the best deal with a spending limit of €10,000 a day, against €3,000 and €7,500 for Bitwala and Wirex respectively. Note that the TenX card matches Coinbase's limit but is only available in Germany and Austria as of now.
If you are looking to load up your card to the max (maybe for a big upcoming trip), Bitwala offers an unlimited maximum balance. Bitwala does not list a maximum balance since they offer you your own bank account. Keep in mind however that there is a €30,000 trading limit which resets every 7 days, limiting the amount of crypto you can convert into fiat.
Coinbase card
Most versatile: Crypto.com, Coinbase, Change
Similar to the US market, the most versatile card is Crypto.com. The Crypto.com card supports USD, EUR, GBP and SGD, offering a zero-fee conversion between them for up to $2,000. You can load the card directly with BTC, ETH, LTC or XRP or convert one of the countless other cryptocurrencies supported on their wallet into any of the above before topping-up.
It is worth mentioning that if you value the diversity of cryptocurrencies supported by a card, then you will also find the Coinbase and Change card to be interesting, as they directly support:
Coinbase card: BTC, ETH, LTC, BCH, XRP, BAT, REP, ZRX, and XLM
Change card: BTC. ETH. REP, BAT, BCH, ADA, LINK, ATOM, DAI, DASH, EOS, LTC, XLM, XTZ, XRP
Change card
Honorable mention: Monolith
A company that deserves a special mention in this section is Monolith. They are are the only open-source project of all the cards on the market. They also get our praise for being non-custodial, joining Bitwala as the only two projects that offer you full control over your crypto holdings in combination with a debit card. Monolith charges two separate fees when topping up your card with crypto. They charge a 1% fee for loading up your card with crypto and a 1% "community contribution" fee (or "License Fee" on their app) for each transaction, as a contribution to the open-source project. The community contribution fee is automatically deposited into the project's community chest, which can be found on this Ethereum address.
However, Monolith offers a way to waive either one of the two fees. The first one is by using DAI to top up the card, in which case the 1% deposit fee is waived (but you'll still have to pay the community contribution fee). DAI is a liquid stablecoin which you can easily buy on several exchanges. The second way is to use their TKN token in which case you won't pay the community contribution fee, but the 1% deposit fee will still apply.
Monolith offers two free ATM withdrawals per month (with a maximum of 350 euros/pounds per withdrawal). To conclude, this project is great if you would like to contribute to the growth of an open-source project and retain ownership of your crypto-currencies before topping up your card.
Monolith card
Crypto cards in APAC/Singapore
Cheapest to use: Crypto.com, Crypterium
Crypto.com first launched its card in Asia and offers some of the most attractive fees on the Asian market. Besides letting you order and activate your card for free, they also offer a true 0% foreign exchange fee (including extra fees charged by financial services) for up to S$ 2,000 dollars in aggregate, per month. This comes in addition to their 0% fee for crypto-to-fiat conversion, free ATM withdrawals up to S$ 200 and free deposits. Crypto.com will charge S$50 if you need a card replacement. Moreover, a S$5/month inactivity fee will kick in after 12 months of not using the card.
Crypterium's fees are comparable to Crypto.com's. However, we placed it second because it only natively supports USD. This means any transaction you do with another fiat currency will incur FX conversion fee. Although Crypterium does not charge an FX conversion fee, the payment network may charge one (in this case Union Pay).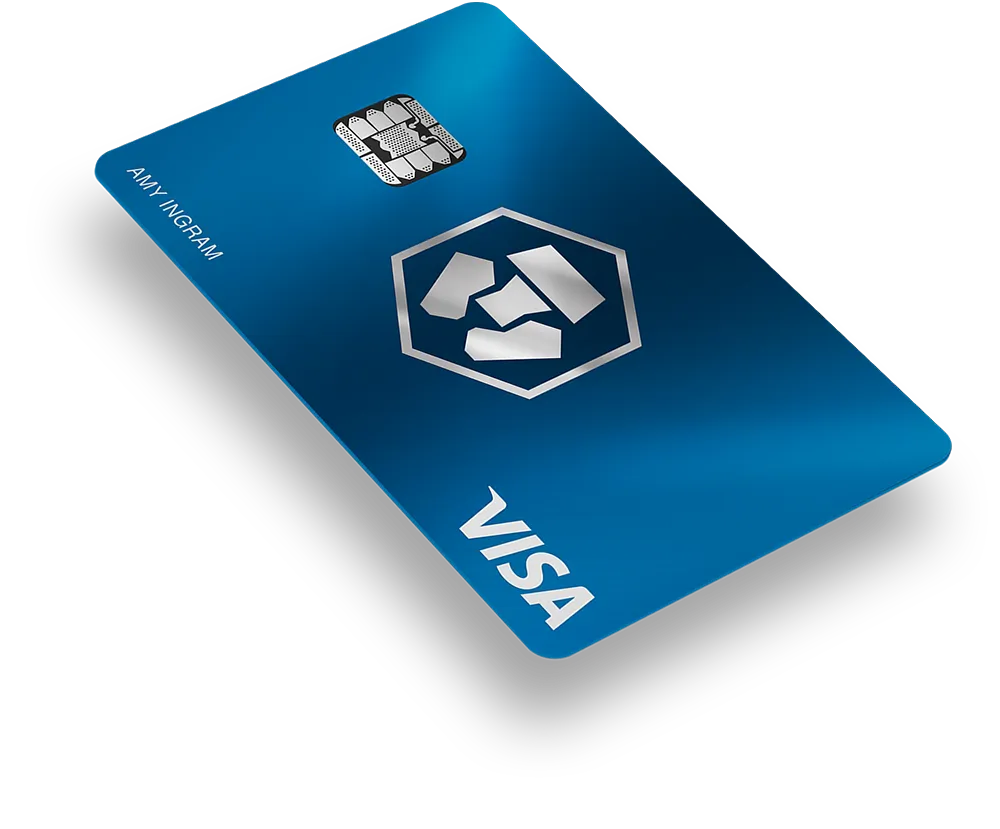 Crypto.com card
Highest limits: Wirex
Asian crypto card limits are generally high and you are unlikely to find yourself limited by them, but if you really want the highest limits you can get, Wirex is probably the best option for you. They report a $50,000 (US dollars) transfer limit per day. The card also won't limit your spending as Wirex does not set a daily, monthly or yearly spending limit. The only constraint is to keep any single transaction to (at most) S$5,000. They do not list any maximum balance either. Note that this does not necessarily mean there won't be any limit. Instead it likely means the limit is very high and if you happen to get close to it, they will let you know.
However, Wirex loses to some of its competitors on the ATM withdrawal limits. Wirex lets you withdraw at most $S 400 per day, whereas TenX let's you withdraw S$ 1,500 per day and Crypto.com up to $50,000 per month!
Most versatile: Wirex
Wirex is also the most versatile, both in the supported fiat and cryptocurrencies. Wirex supports USD, EUR, GBP and SGD and allows fiat deposits. They also directly support all the following cryptocurrencies: BTC, ETH, LTC, XRP, WXT, XLM, DAI, NANO, WLO, WAVES. Crypto.com offers a very similar experience and diversity of cryptocurrencies in their wallet, but their card only directly supports BTC, ETH, LTC, XRP, which means that other cryptocurrencies need to be converted into one of those first.
Wirex card
Conclusion: Which are the Best Crypto Cards?
The crypto debit card market is still young as can be seen, there are a lot of options to choose from, perhaps too many. That's why his article strives to declutter the market by highlighting the best cards and deals available today.
To summarize, the cards offering the lowest fees are:
The cards offering the highest limits are:
And the card with the widest crypto support and world coverage is:
Honourable mentions:
Check out the comparison tables we created for each region to see the full details on each card's fees and limits. In the future, we will be reviewing the user experience for each and every one of these cards to give you a better idea of their overall ease of use. Let us know which one you would like us to review first and subscribe to our newsletter to make sure you always know when our latest articles are out!
Comparison Tables
Comparison table of US cards
Comparison table of EU cards
Comparison table of APAC/Singapore cards
Scoring procedure
For each of the categories (fees, limits, versatility), we looked at the criteria below and increased a card's score by one for each criteria in which the card outperformed the others:
Fees
Card fees: cost of ordering/activating/maintaining/replacing a card + inactivity fee
Trading fee: cost of converting crypto to fiat
Foreign Exchange (FX) fee: cost of converting one fiat currency to another
Spending/transfer fee: sending fiat from the card (POS, transfer, etc)
ATM fee: withdrawing cash from the card
The fees mentioned in this article do not include extra fees that may be charged by the financial services such as VISA network fees, ATM operator fee, etc…
Limits
Transfer limit
Spending limit
ATM withdrawal limit
Max deposit
Max balance
Versatility
Fiat currencies supported (without FX fee)
Crypto currencies supported (for direct conversion)
Countries in which the card is available
Option to deposit fiat as well as crypto
Resources
Bitwala: https://www.bitwala.com/static/bitwala-pricing-en-9f44a1fa19f8622a1e916146234f9c84.pdf
Spend: https://www.spend.com/fees-and-limits/
Monolith: https://monolith.xyz/pricing
Crypterium: https://crypterium.com/content/tariffs.pdf
Wirex: https://wirexapp.com/help/article/wirex-fees-and-limits-0077
Cards reviewed
AdvCash
Bitpay
Bitwala
Change
Coinbase
Crypterium
Crypto.com
Monolith
Spend
Revolut
TenX
Ternio Blockcard
Wirex