When I first heard about crypto in autumn of 2015, I assumed it wasn't for me. Some combination of lack of technical understanding and limited disposable income left me skeptical of what crypto could really do for me. Hindsight really is undefeated.
Nearly five years later at the beginning of 2020 my son was born and a global pandemic forced us all inside. Suddenly at home a lot on dad duty, I discovered a fantasy football (soccer for Americans) game called Sorare.
At least that's all I thought it was. Then I saw the Etherscan address on my cards and fell headfirst into a swirl of NFTs, DeFi and Crypto Twitter.
On the surface, Sorare purports to be an online fantasy football game similar to what you might find in sports like Baseball, American football or basketball. In one sense, this is exactly what it is.
Each week, thousands of players all over the world assemble their squads to compete for card rewards and crypto cash prizes. Think FIFA Ultimate Team where managers assemble virtual teams of real world professional football players and compete against a global audience
But there's one thing that separates Sorare from the myriad of fantasy sports games: everything in Sorare happens on-chain and cards are tokenized as NFTs.
After a recent eye-watering fundraising round earlier this year, it's clear that Sorare is just getting started. We wanted to walk you through all the ins and outs of Sorare so you know how you can jump right in.
Onboarding with Sorare
Unlike most Web3 applications, Sorare users will need to enter an email address to sign up instead of just connecting their crypto wallet. After confirming your email address, you'll be asked to select your 3 favorite clubs.
TIP: Sorare does not make it very clear, but this selection will determine which cards you will receive as part of your card pack. Choose teams like Real Madrid or Bayern Munich at this stage. You will earn much better common cards that will allow you to score highly in your first games.
Once you complete all onboarding steps you'll have a selection of Common cards that can be played only in the Casual competition (we'll go through the competitions later).
For security, turn on 2FA in your account settings before going any further. Sorare has not suffered account breaches to this point but since you're going to be adding crypto to your account to buy players, it's better to be safe than sorry.
Your Gallery & Cards
Each card you've received in your onboarding is automatically added to your club gallery. You can find them all in the My Club section of the menu.
Before setting your first lineup, it's a good idea to get to know your team a little bit.. Does the player usually start for his team in real life? Is he usually subbed off mid-game? Has he played well recently? Has his coach said anything about him recently in the press?
To win the most interesting rewards when you start playing, you'll need to choose players who perform well in real-life so you can't simply "set and forget" these lineups. Injuries, form, transfer rumors should all factor into your decision to start a player or not.
While the above information will require a little googling (and a trip to SorareData which I'll discuss later), you can find out a lot about your players in the cards themselves.
In the example below, you can see how well this player has performed over his last 5 games, the bonus the card has earned, the card's serial number and much more.
You can take a look at how well your new Common cards have performed right away to get an idea of which might be the most interesting to put in your first lineup.
Card Scarcities
In addition to the Common cards you earned as part of your onboarding, Sorare offers four other card scarcities:
Limited (Yellow) - Sorare introduced Limited cards in the summer of 2021 as a way to help newer, non crypto-rich managers compete. 1000 Limited cards are released per player each season and the price point is affordable.

Rare (Red) - Formerly the least scarce card on Sorare, Rare cards (1/100) remain extremely valuable for managers getting started for one main reason: In the Rare league, Sorare has a scoring threshold that rewards all managers who score more than 205 points in a Game Week at least 0.01 ETH. This is a great way to build up your ETH to use in Sorare (or elsewhere) slowly.

Super Rare (Blue) - Ten Super Rares are minted for each player per season. Super Rares come with a 25% XP Bonus and are only playable in Higher leagues. They typically sell between 0.1 and 0.5 ETH but star players like Kylian Mbappe sell for much higher.

Unique (Black) - Each season, only one Unique card is issued per player in Sorare. Obviously these cards are the most expensive and exclusive to own. At the time of writing, the most expensive Unique on the secondary market is a 2020-2021 Edition Rayan Cherki listed at nearly $300k (80 ETH).
SO5 Competitions
You can compete immediately in the Casual competition as it only requires Common cards and is great for new managers to learn the game.
But if you'd like to jump right in and start playing in other competitions, you'll need to buy cards from the scarcities discussed above. Once you've done that, you'll need to decide which competition you want to play.
Sorare has six main competitions:
Global All Star - Open to any card in the game

U23 - Only for players under the age of 23 but these players can come from any league in the real world

Champion Europe - Open to players of any age from the top 5 leagues in Europe: Bundesliga (DE), Ligue 1 (FR), Serie A (IT), Premier League (UK) and La Liga (ES)

Challenger Europe - Open to players of any age from the remaining leagues in Europe and Turkey

America - Open to players of any age who play in the Americas. The main leagues in the USA, Mexico, Brazil, Argentina and Peru are covered

Asia - Sorare has partnered with the main leagues in Japan and South Korea. Players in those leagues are eligible for this competition regardless of age
Each game week you can choose from your available players to create teams in as many competitions as you want. The above competitions exist for each card scarcity i.e. there are Limited U23 AND a Rare U23 competitions.
If you're itching to build a team and start buying cards, I recommend choosing a league from the above list and focusing on one competition. This will allow you to concentrate your capital and energy on one group of players at a time.
For me, I am most excited by prospects so I built my U23 Limited roster first. Depending on the competition you choose (and your budget), you can build a complete Limited roster for around 300 euros. A complete Rare team is probably going to cost at least 1000 euros.
If you have the budget (and received a decent Common goalie in the onboarding) I recommend starting with Rare Global All Star competition for three reasons:
You can use your Common Goalie in this division. Goalies are the most expensive players to buy in Sorare and avoiding paying for one right away is going to help you get going faster.
You'll be less restricted in terms of who you buy because nearly any player in the game is eligible for this competition.
The Global All Star Competition has a scoring threshold reward. This means that if your team in a given game week scores more than 205 points, you'll earn 0.01 ETH and 0.02 ETH if your team scores more than 250 points.
To give you an idea of how much this could cost, I bought an entire team for the Rare Global All Star Competition recently for about 1700 euros (although I bought a goalie as well).
Sorare Scoring System
As you research the players already in your club and scout new talent, you'll need to understand how they will be scored for the performances on the pitch.This will help you build the best team and earn the most rewards.
First, Sorare uses a third party data provider called Opta to score players' performances and derive their scoring system.
From the data provided by Opta, each of your players will receive a Decisive and an All Around Score each time they play. These numbers are added together to form the overall score.
The Decisive score acts almost like a bonus or multiplier for key plays and decisive moments that occur during football matches, while the All Around score is more of a reflection of general performance (distance, ball contacts etc.).
Players who start matches are given an All Around score of 35 from the beginning of the match and players who are subbed in later earn a 25 the moment they enter the game.
Your overall score can be positively or negatively impacted by both All Around and Decisive actions.
Examples of different factors that can influence your players' scores:
Decisive Actions:
Scoring Goals
Making a Save (Goalkeepers only)
Last Man Tackles
Clean Sheets
All Around Actions:
Passing and "dangerous" passes including kicks into the penalty box
Tackling and One-on-One Duels
Attacking Play
You should spend time looking into some of these stats for each of the players you received during the onboarding but it is vital to do this research when you look to buy cards.
The last element of scoring is an XP bonus that each card accumulates the more you play each card. Cards from the current season automatically have a 5% XP bonus. This bonus will increase the more you play each card.
For reference, all cards won in auction will automatically receive a New Season Bonus of 5% which will increase as you play them in competitions. Cards from older seasons that you may buy directly from other managers will have a lower XP bonus.
You'll find detailed stat breakdowns for each player directly in Sorare. Here's an example.
The team at SorareHub put together a fantastic breakdown of the scoring system if you want to go deep on how your players will be scored.
Setting Your First Lineup
Now that you know how to pick players for your team and how they will be scored, you're ready to play!
Sorare is a five-a-side game so you only need 5 players to form a team. Luckily, you receive more than enough Common cards to get started as part of the onboarding process.
Head to the Play option in the top menu to start playing with your new team. You'll see three Game Weeks and you'll need to find any that have a green Open label.
After clicking on an open Game Week, you'll see all competitions available in the game. Head to the Casual Section as it's the only one you can play before you buy rarer cards and you'll be taken to your lineup builder with 5 open card positions.
To get started you'll choose from the best available players for each position and one extra player who can be any position. You'll also be prompted to choose a captain who will be given a 25% XP bonus. Choosing a captain who is in form and has a good matchup for that week is a great strategy.
When the GameWeek is complete, your overall scores for each player will be tallied together and hopefully you'll win a reward. Casual league rewards give managers either new Common cards or Limited Cards (1/1000 scarcity) for the top 3 places.
Once you've bought new cards from higher scarcities, you can compete in leagues with more attractive prizes like ETH and ultra rare cards. Frequently Sorare runs special games where players can earn real world rewards like game tickets and exclusive fan experiences.
While some managers see buying Sorare cards as purely an NFT investment, the quickest and surest way to positive ROI in Sorare is to actually play the game.
SorareData
By far the most indispensable tool in any Sorare managers' arsenal is SorareData.
Although technically an independent company, Sorare's founders invested in the company and I assume they'll bring it into their overall product experience one day.
The SorareData mobile app has changed the way I play Sorare by making it easier than ever to monitor my teams and what rewards I'm earning in real-time. I can set game and player level push notifications so I know when to celebrate.
Where SorareData truly excels, though, is its ability to prevent you from overpaying for cards or deciding what is a fair price to sell your cards . Essentially, SorareData leverages on-chain data to give you a simple, easy to use interface to assess the secondary market of Sorare cards.
You can test out and save lineups weeks in advance, search for cards using extremely specific criteria and monitor players' form and injury status.
Crucially, SorareData also provides you with a detailed view on the selling ranges for players across all scarcities. I would not buy a card on Sorare without heading to SorareData to look into the card and player first.
Buying & Selling Cards on Sorare
With a clear idea of who you want to buy, it's time to jump into the Sorare market. There are two ways to buy cards within Sorare although cards are also available on NFT marketplaces like Opensea or Rarible.
You can buy Sorare cards from the Auction or from the peer-to-peer secondary market within Sorare. To do this, you'll either need to deposit ETH directly in your account from your crypto wallet or use Sorare's on-ramping partner, Ramp.
In my experience, the auction is great but people get burned all the time by paying too much as they get emotional in the "heat of battle". We've discussed how heading to SorareData before bidding can help you not overspend but there is an even simpler way.
When you see a player you'd like to bid on, just search for the player you want to buy, click on the Cards tab, filter by scarcity and then select the "Lowest Price" option in the toggle. This will show you all cards for that player (auction and manager sales) and will help you not get into a bidding war.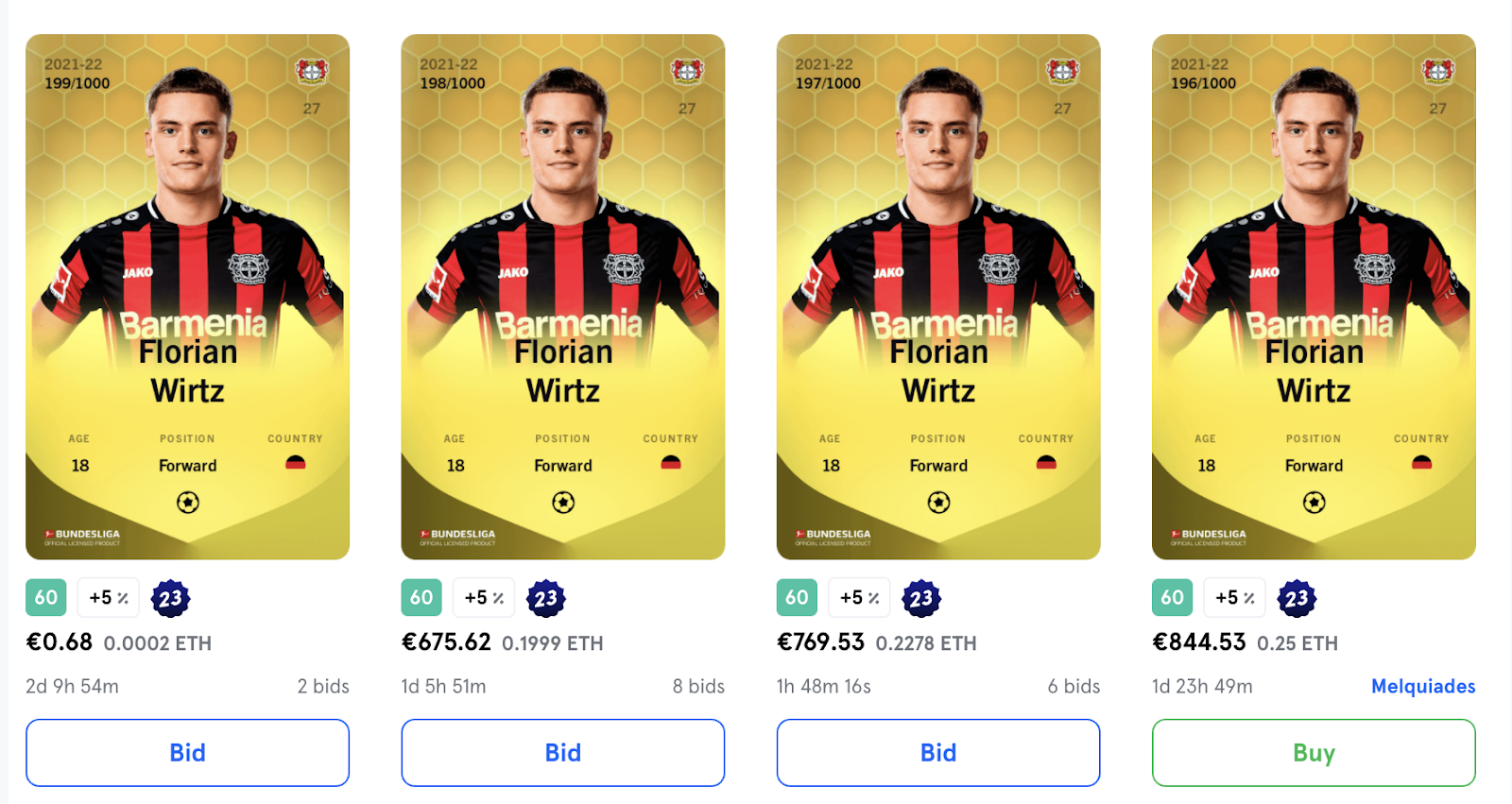 In the example above, I've sorted the page by Lowest Price. If I want to buy Florian Wirtz in the auction ending soon, I know that I should bid up to 0.25 ETH as it is the cheapest price on the secondary market. If I get into a bidding war on the auction and go over that, I've overpaid.
As the auction is running 24/7, managers often place high bids on cards they want to buy hours in advance. This strategy can work as it scares off people from bidding, but the best cards I have ever gotten usually involve me waking up late in the night just before an auction ends to grab a player I've been looking for.
Tip: If you're EU-based, you can sometimes find great deals on Saturday and Sunday mornings between 7-8am.
Another Tip: If you haven't bought cards before, use a referral link when you sign up (this one is mine). When you buy five cards on auction, you and the person who referred you will earn a free card.
Selling your cards is simple in Sorare. All you need to do is decide a price and list your card. Sorare has put in a 2 minute "window" after you list your card to avoid accidentally listing your price too low. You can easily undo a card listing if you made a mistake.
Other managers will often send you offers which you'll be able to review and accept. Cards are listed for 48 hours. If your card does not sell during two days, you'll need to list it again.
One extremely important thing to note about selling your card on Sorare is that you can withdraw any ETH you earn at any time to your crypto wallet without paying any gas!
Some data for me: I started playing Sorare in March 2021 using Euros to buy players. This is a tough way to go but you can generate positive ROI if you're persistent and spend time on it.
I've invested around 4000 euros in Sorare since I joined. I've sold cards (both players I've bought and those I've earned as rewards) for a grand total of 6000 euros.
While most of that has been reinvested into the game, I am happy with my ROI so far.
My best personal investment was buying a Gavi rookie card for 75 euros and selling a couple of months later for 700.
According to SorareData, my current squad of about 40 players is valued at 2 ETH ($8000 at the time of writing). I only have Rare and Limited cards at the moment.
What's Next for Sorare?
Sorare is only just getting started. When I began playing earlier this year, it wasn't uncommon for competitions to only have a thousand managers enter a game week. Limited competitions now regularly have more than 10,000 managers competing and the Casual competition has over 50k each week.
After their incredible fundraise this summer, it's clear they aren't slowing down anytime soon.
So what's next for the game?
It's clear that they do not plan on stopping at football. Company leadership has already expressed their intention to expand into other sports and their CEO recently predicted the intersection of NFTs and fantasy gaming as a powerful driver to increasing the footprint of women's sports.
I can't wait to see what they do next!
If you're looking for one final Sorare tip, January is a time when players change teams in real life as clubs look for a boost in the second half of their seasons. This is a time when players who may not have featured for their old clubs become regular starters overnight.
Stay on top of the transfer rumor mill and you just might find your next player to take you to the top of the weekly standings :)
Additional Tools & Resources