Kraken is one of the oldest exchanges. It's based in San Francisco and has an excellent reputation as it's never been hacked.
In the early days the interface and user experience used to deter novice traders but the exchange has since made its platform much more user friendly and continues to improve by adding new features to its exchange. Moreover, it's one of the most inexpensive exchanges to buy cryptocurrency.
Kraken Highlights
Arguably, the best feature about Kraken is that it supports inexpensive options to transfer fiat in- and out of the exchange. In Europe & the United States for example, bank deposits are free of charge. In Europe, it recently added support for Instant SEPA, a new banking scheme that facilitates instant fiat deposits. In the US Kraken recently obtained a banking licenseallowing it to roll out many more bank-like features. There are even rumours that Kraken will offer a full-fledged bank account to their users, so Kraken can be used as a salary account AND to trade crypto.
Another standout feature is Kraken's staking feature. Staking is a mechanism employed by Proof-of-Stake blockchains like Polkadot and Tezos, where the network is not secured by miners but by validators who stake their funds and vote on transactions. Kraken runs validator nodes on several PoS Blockchains and lets users deposit their assets to earn interest on them.
Deploying a validator node by themselves is quite complex for average users so it's helpful that Kraken provides an options for simple staking. Currently, Kraken supports staking for Polkadot, Cosmos and Tezos. We expect that they will support staking for Ethereum 2.0, when Ethereum switches from Proof-of-Work to Proof-of-Stake.
Kraken iOS & Android Mobile App
Kraken added a mobile App this year, to allow its users to manage their funds on the go. However, the functionalities of the mobile app are quite limited. To begin, one can not sign-up for Kraken through the mobile app. Users must sign-up for Kraken on the web and then import the existing account on mobile. This import can only be done by finding your API keys and copy pasting them in the mobile app ( or scanning the QR-code).
Fiat deposits can also not be done through the app, which doesn't make a lot of sense. Nevertheless, the mobile app is practical for checking your balance or doing quick trades on the go. We hope Kraken will continue to improve the app.
How to Sign-Up for Kraken
Head to the Kraken website and click on "Create Account" at the top-right corner. This will lead you to the sign-up page where you will be prompted to enter your e-mail address, username, password and country of residence.
After submitting the requested information you will be led to the next page. Check your email address (including the spam folder) for an email from Kraken. Click on the activation link in the email or copy and paste the activation key manually. Then, enter your username and password and press "activate" to finish the registration process.
You are now good to use your Kraken account for trading but you'll need to transfer crypto from an external wallet or an exchange. To buy crypto with fiat (Euros, Dollars etc.) you have to get your account verified. This can be done by clicking on the "verify" button in the menu.
You will be directed to the page below, on which you can see the different verification tiers along with their benefits and requirements. If you're an average trader, we recommend the "Intermediate" tier, which allows you to deposit and withdraw up to $500.000 dollars of fiat currency a month as well as selling and buying cryptocurrency with fiat.
Kraken is quite particular about how the verification documents need to be uploaded. To avoid the hassle of going through the process multiple times we advise reading their guidelines beforehand. Once you have uploaded the documents you can view your application status by going in "Settings" and then clicking "Documents".
How to buy crypto on Kraken
This image shows your Kraken account dashboard. In light green you see the market stats for the selected currency pair, in this case BTC/EUR. Note that Kraken gives bitcoin the currency ticker "XBT" following an international convention dictating that non-sovereign currencies shall begin with an "X". Above you'll find the navigation bar that allows you to switch between different features. To fund your account click on "Funding".
On the funding page you'll see an overview of all the assets that can be deposited to fund your account. Press on "Deposit" and follow the instructions.
For each currency there are different deposit methods with varying fees and processing times. To deposit Euros, we choose "Fidor Bank AG (SEPA)" as it's free of charge. Don't forget to include the reference number (highlighted in red) to your bank transfer as this is needed for Kraken to match the incoming deposit with your account.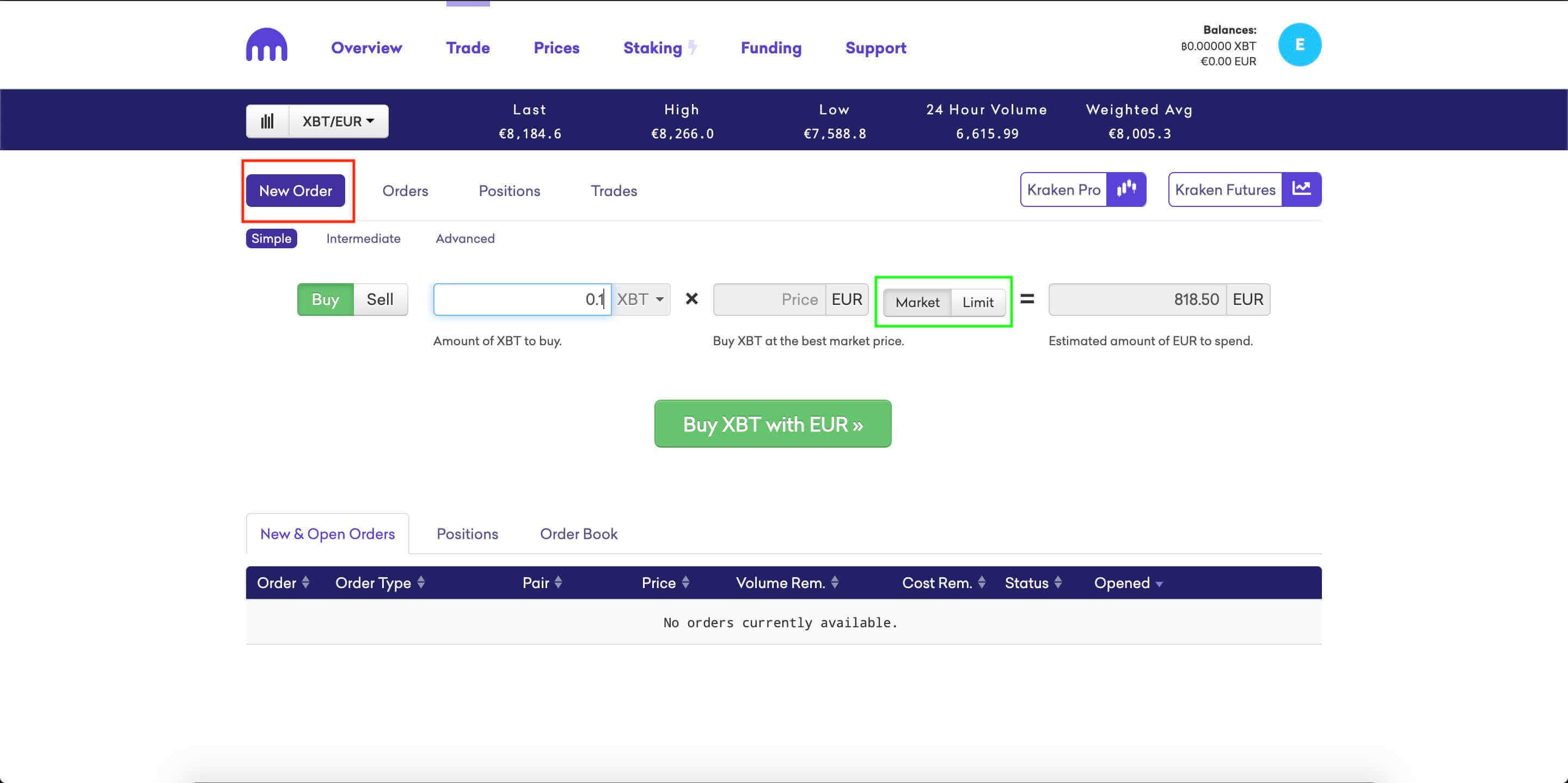 Once you receive an email from Kraken notifying you of the arrival of your funds, it's time to head back to the site and make your first order. Navigate to "Trade" in the menu and then press on "New Order". You have three options "Simple", "Intermediate" and "Advanced" allowing you to make more or less customized orders. If you choose the "Simple" option you'll see only two input fields: Price and Amount. The simplest way to buy cryptocurrency is to buy at the market price. For that purpose, you have to click on "Market" (highlighted in green) and simply submit the amount of cryptocurrency you want to purchase. On the right side of the equation, the estimated total cost of your order is displayed. Press on the "Buy" button and your order will be executed. If its a market order it will be filled almost instantly, if you made a limit order (or other customizations) it will be filled when there is a corresponding seller. You can track the status of your open orders in the "Orders" tab.
Withdrawing crypto from Kraken to an external wallet
If you purchased the cryptocurrency and want to transfer it (to another wallet you own or to someone else) go back to the "Funding" tab and press "Withdraw" for the cryptocurrency you want to transfer.
Click on "Add address", enter the crypto address you want to withdraw to and give it a name. This comes in handy when you have several addresses and want to pick it easily the next time you make a transfer. As an added security measure, Kraken makes you whitelist new addresses, which you do by clicking on a confirmation link you receive by email. Once that's completed, go back to the withdrawal page, choose the newly whitelisted wallet, enter the amount you want to transfer and click on "Review withdrawal". Check the transfer information one last time and click "Confirm Withdrawal" if you're happy with it.