Coinspot is an Australian based crypto exchange that allows users to buy and sell more than 100 cryptocurrencies. Coinspot accepts bank deposits in AUD, but only for Australian citizens. If you're a non-Australian resident, you'll be forced to fund your account with crypto.
What is Coinspot?
Launched in 2013, Coinspot is the highest-volume cryptocurrency exchange in Australia and the only one having an ISO certificate for its security practices. The platform has an extensive range of supported coins, with more than 100 cryptocurrencies available to buy and sell.
This includes crypto-to-crypto trading pairs, as well as fiat-to-crypto.
The Coinspot platform is rather simple to use, with a clean and crisp interface. The main drawback to using Coinspot for your cryptocurrency needs is that the exchange only accepts fiat deposits and withdrawals from Australian residents. This means that you'll need to deposit funds with cryptocurrency if you're based elsewhere.
How does Coinspot Work?
Coinspot works much in the same way as any other cryptocurrency exchange. The platform matches buyers and sellers, and charges trading fees, called a 'spread for its efforts'. When you first register an account with Coinspot, you'll need to deposit some funds via bank transfer or cryptocurrency. Once your account is funded, you can start trading on the Coinspot platform.
Some users like to use the platform for day-trading, while others use it just to buy crypto and hold on to it. If you belong to the latter category, you're probably best off withdrawing your coins to your own non-custodial cryptocurrency wallet.
Coinspot also offers an OTC (over-the-counter) service for high-networth customers or institutional investors who want to buy extremely large amounts. However, if you're only trading small amounts, the spot trading platform will work just fine for you.
What cryptocurrencies does Coinspot support?
As mentioned, Coinspot offers more than 100 cryptocurrencies and tokens. It must be said that a lot of these tokens are quite useless and probably the legacy of the 2017 ICO boom. Here's a list of the more popular cryptocurrencies Coinspot offers.
Cryptocurrencies:
Ethereum (ETH)
Bitcoin (BTC)
Litecoin (LTC)
Stellar (XLM)
EOS (EOS)
Tron (TRX)
Ripple (XRP)
Popular Ethereum (ERC-20) tokens Coinspot offers:
BAT: Utility token belonging to the Brave browser
ZRX: Token powering the decentralized exchange protocol 0x
REP: Governance token powering the Augur prediction market platform
BNT: Bancor is another decentralized exchange project
LEND: Aave is a decentralized lending platform
LINK: The token powering the Chainlink oracle system
MCO: The utility token used inside Crypto.com
Which countries does Coinspot support?
Although Coinspot is an Australian exchange, with a strong focus on Australian residents, users from other countries do have the option to sign-up and can deposit funds via cryptocurrency transfers. Since the platform does not specifically make any mention regarding prohibited countries, it's most likely the exchange is available globally.
Coinspot Payment Methods and Fees
Coinspot offers a range of payment methods and deposit options for Australian residents. If you're not an Australian resident, then you will need to fund your account via cryptocurrency.
POLi and PayID are two payment systems that are instant and free. The only caveat is that your bank needs to be compatible with these payment systems for it to work.
If you prefer a normal bank transfer via BPay you can do so but it takes 1-2 Business days and costs 0.9% of the deposit amount.
Lastly, there's also the option to deposit funds in cash via Blueshyft at over more than 1500 retailers in Australia. You can find the nearest Blueshyft location here.
Below is an overview of all the payment methods available on Coinspot to Australians.
Coinspot Trading fees
Coinspot offers two different trading fees. If you want convenience and just being able to buy crypto with one simple click you can use the 'Instant Buy' feature but this will cost you a 1% fee. For example, if you buy $2,000 worth of crypto at Coinspot, you'd pay $20.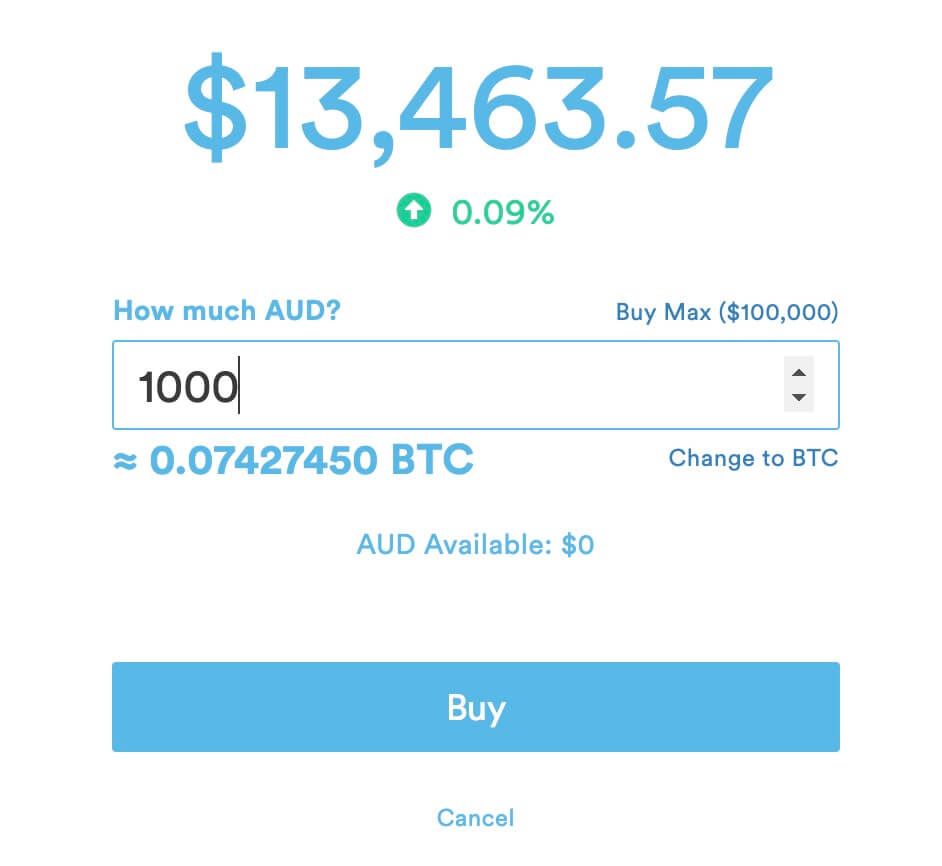 Alternatively, you can do a 'market buy' which is a bit less user-friendly on first sight but only costs you a 0.1% fee. The only real difference is that you will be exposed to some trading charts and you will have to input your 'bid' (the price you're willing to pay) yourself. We'll explain this process step-by-step further down in this review.
How to sign up and trade on Coinspot
Unless you are based in Australia, we would suggest re-thinking your plans to open an account at Coinspot. As a user outisde Australia you are severely limited when it comes to depositing and withdrawing real-world funds and would be better off checking other cryptocurrency exchanges. However, if you do want to proceed, then check out our comprehensive step-by-step guide below.
Step 1. Open an account with Coinspot
Head over to the Coinspot website and choose 'REGISTER'. You'll find the button at the top right-hand corner of the navigation bar. On the next page, you will be asked to enter your email address and to choose a strong password. After you have confirmed your email address your Coinspot account is accessible but you still have to set it up properly.
Step 2. Set-up two-factor authentication
Once you're within the Coinspot interface you'll see a prompt reminding you to set-up two-factor authentication (2FA). This will add an extra layer of security on your account, and help to keep your funds safe. Every time you'll log-in or perform an important action (like withdrawing funds) you'll need to enter a one-time code that is generated dynamically on your phone. You can use Google Authenticator for it or other Authentication apps like Authy.
If you're not sure about how this works you can look at this extensive guide provided by Coinspot.
Step 3. Verify your account
Once you've set up 2FA, you're now ready to deposit funds. If you're an Australian resident, click on the 'DEPOSIT AUD" button. This will open a window where you have to fill in your personal information and upload a scan of your driving license or your passport. Finally, you will have to confirm your Australian phone number by entering a code that is sent to you by SMS.
Step 4. Deposit Funds
Once you're verified you can deposit Australian dollars using any of the payment methods mentioned before (cash, BPAY, PayID etc.) If you're not from Australia you will have to deposit by sending cryptocurrency to your Coinspot wallet. In order to deposit cryptocurrency go to the "Wallets" tab and when you see the cryptocurrency that you want to deposit click on the "Receive" button. You will then see your unique Coinspot deposit address for the cryptocurrency you want to fund your account with. Copy the code, head over to your crypto wallet, and then transfer the funds to your Coinspot wallet.
Step 5. Start trading
Once you have funded your account, you can then begin trading. Click on the "BUY/SELL" button at the top of the screen to be taken to 'Instant Buy' trading page which presents you with a quick quote in Australian Dollars. If you click on the "Buy" button your order will be executed instantly.
If you want to do a market order, allowing you to submit a custom price offer you have to head to the "Markets" tab. There you'll be presented with an order box. Choose whether you want to place a market order or limit order, enter the amount you want to buy, and then execute the trade.
Is Coinspot safe?
Coinspot has not reported any cryptocurrency hacks since its inception in 2013, which is a good sign since hackers would have long exploited it if it had any major security loophole.
This is underlined by the fact that as Coindesk recently reported Coinspot was the first Australian cryptocurrency exchange to receive the International Organization for Standardization (ISO) stamp of approval for its security systems.
"There are inherent risks in keeping assets stored in exchanges as the history of the industry will attest and this ISO certification provides evidence of the hard work and continued effort of our team to protect our customers," said Russell Wilson, founder of CoinSpot.
Obtaining a ISO certificate is quite hard and speaks for the professionalism of the exchange. To receive the ISO certificate a thorough investigation of the exchange's information security management processes and practices is conducted. It includes the management of digital asset custody, information relating to employees, suppliers and clients, as well as intellectual property.
Coinspot stores the majority of its cryptocurrency funds in so-called "cold-storage" which means that the wallets are not connected to the internet and almost impossible to hack. Only a fraction of the funds are held in "hot storage", just enough to satisfy customer demands who wish to withdraw funds.
The fact that Coinspot verifies the identity of all of its users to comply with Anti-Money-Laundering Laws (AML) as well as it's Australian banking relationships are additional signs that show Coinspot adheres to industry best practices.
On a personal level security is quite customisable:
Strong password required
Two-factor authentication (not enforced)
Customers identified when using fiat currency
SSL Encryption
Additionally, if you want to prevent yourself from getting hacked, you can use an e-mail address that you just use for Coinspot.
Does Coinspot have a wallet?
Like every cryptocurrency exchange, Coinspot offers users a web wallet, i.e the ability to store, send and receive cryptocurrency. However, these are not non-custodial cryptocurrency wallets where you have access to the private key and a guarantee that no one else can access your funds. Instead, your funds are stored with Coinspot and Coinspot moves the funds on your behalf when you request it, similar to a traditional bank. This is why security is of utmost importance with exchanges. If the Coinspot servers were hacked, your funds could be at risk.
If you want to physically own your cryptocurrencies you would need to withdraw your funds to a private cryptocurrency wallet.
Is Coinspot regulated?
Coinspot is registered with AUSTRAC to provide digital currency exchange services in Australia. Since April 2018, all businesses providing Digital Currency Exchange (DCE) services in Australia have to hold a special license.
Businesses that provide Digital Currency Exchange services must meet AML/CTF obligations, including: adopting and maintaining an AML/CTF program to identify, mitigate and manage money laundering and terrorism financing risks identifying and verifying the identities of their customers reporting to AUSTRAC suspicious matters, and transactions involving physical currency of $10,000 or more keeping certain records for seven years.
The fact that Coinspot holds this license means that it is an exchange that takes regulatory compliance and safety seriously and works with the governmental authorities to provide the best service to its users.
Does Coinspot have an app?
As of the date of writing this review, Coinspot does not have a mobile (iOS/Android) app. However, its web platform is fully responsive meaning that you can access it through the mobile web browser on your phone and use it. However, if trading on-the-go is an important requirement to you, you might want to check out an exchange like Coinjar or Coinbase that offer mobile apps.
Coinspot customer support
Coinspots customer support can be reached on the platform through live chat from 9am - 8pm weekdays and 9am - 5pm on weekends! Outside of these hours you can still submit a ticket via the chat and their support team will get back in touch with you via email as soon as possible.
On its page Coinspot claims that requests are answered within one hour on average, which we can confirm from our own experience with the customer support. Lastly, Coinspot has a well-documented help center, which should answer the most generic questions.