Bitstamp is a Luxembourg based cryptocurrency exchange founded in 2011 as an alternative to the infamous (then dominant) cryptocurrency exchange Mt.Gox. After Mt.Gox was hacked many users were looking for a more professional exchange with better security practices. They found it in Bitstamp and Bitstamp is still to this day one of the most popular and longest-standing cryptocurrency exchanges in the world.
It provides a quick sign-up, a user-friendly interface and trading of bitcoin, ether, litecoin, ripple and bitcoin cash as well as a range of ethereum tokens against US Dollars, Euros and recently GBP. While depositing Euros is free for users in the SEPA region, depositing US Dollars comes with a minimum fee of $7.50 as it has to be done by international bank transfer. Bitstamp also allows users to buy bitcoin via credit card - albeit for a hefty 5% fee.
Because of these fees, we think that Bitstamp is a viable option for users in Europe but users in other geographies should look for an exchange with a cheaper fiat on-ramp.
How to Sign-up for Bitstamp
Start by heading to the Bitstamp home page click on "Register". When asked about the account type you want to apply for, choose "Personal Account". Next, enter your name and email and of course, agree to Bitstamp's terms of use. A quick email verification (don't forget to check your spam folder) and you're signed-up.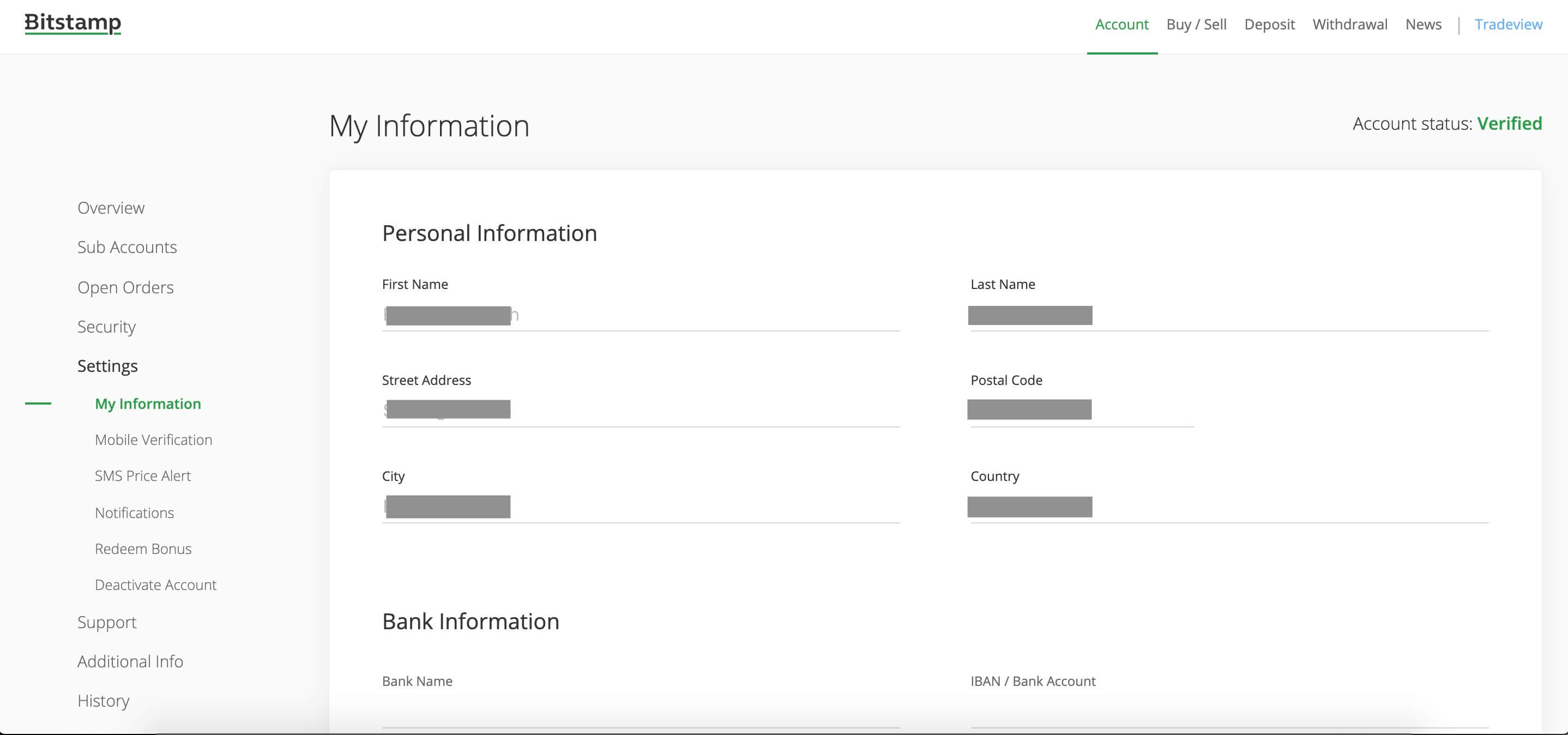 Once inside the Bitstamp dashboard, you have to enter your name and address and then verify this information by uploading a copy of your Government ID and a proof-of-residence (e.g a utility bill or bank statement). The bank information section, can be left blank at the time you sign-up, it's only needed when you cash out the proceeds of your trades and withdraw to your bank account.
To finish, Bitstamp will ask you some financial information relating to the source of your funds and how much you will trade. This includes info like your annual income, employment status etc.
Now that you're signed-up, you still have to enable Two-Factor-Authentication (2FA) via the Google Authenticator App in order to secure your account to a reasonable degree. 2-FA prevents someone from logging into your account and stealing your funds even if they had your email and password. It requires downloading the Google Authenticator App which generates one time codes to Log-In, meaning that a hacker would also need your phone. Enabling 2FA is best done during the sign-up but can also be setup after under "Account" >> "Security" >> "Enable".
Two-Factor-Authentication acts as an additional security layer to make sure that it's truly you logging-in to your account. From the moment you enable this feature, you will be prompted to enter a 6-digit pin by the Google Authenticator app every time you Log-In, along with your Bitstamp password.
Depositing fiat on Bitstamp
Now that you have verified your account and enabled Two-Factor-Authentication, you're almost ready to make your first trade.
To deposit fiat money, click on the currency you want to deposit on the asset overview in the account page. You will see a range of options. If you're outside the SEPA region select "International Bank" and if you want to buy crypto with a credit card, select "Credit card".
On the next page, enter the amount of currency you want to deposit and the currency you want to be credited in. It appears that you can make a Euro transfer and be credited in dollars - and vice versa. However, we haven't tested this and a conversion rate for swapping currencies might apply here. Using the bank information displayed by Bitstamp, go to your online banking and initiate a bank transfer to Bitstamp. Don't forget to include the transfer reference highlighted in orange or Bitstamp might have difficulties matching your account with the incoming bank transfer.
Buying crypto on Bitstamp
When you have received an email by Bitstamp informing you of the funds' arrival, it's time to head back to the exchange. First, you have to choose which cryptocurrency you want to buy, which is done by heading to your account overview and then selecting the cryptocurrency you want to buy. Alternatively, you can initiate a trade by opening the market overview tab in the navigation bar and selecting the currency pair (in our case ETH/EUR highlighted in red).
Both options will lead you to the "Instant order" page. Here you simply have to enter the amount of fiat currency you want to spend and the order form will display how much of the chosen cryptocurrency you can buy at this price. For this purchase type, Bitstamp's fee is always 0.5%.
This is the easiest way to buy cryptocurrency on Bitstamp but you can also submit other types of orders like "Limit" or "Stop" orders. Using a limit order you don't buy instantly but specify a price you're willing to buy at. Your limit order will then be added to Bitstamp's order book and matched when that price is reached.
Bitstamp Fee Overview
The trading fees on Bitstamp are between high and average. They are in line with Coinbase but more expensive than FTX for instance. However, you get a lot of security and reputation by trading on Bitstamp. As mentioned previously the starting fee for trading on Bitstamp is 0.5% and gets lower if you trade higher volumes per month. Here's the overview of the Bitstamp trading fees.
The fees for depositing and withdrawing fiat money from Bitstamp vary from one currency to another.
In the European Union SEPA deposits are free whereas a withdrawal costs €3.
In the UK using the faster payments scheme deposits are free of charge while withdrawals cost 2GBP.
In the US using ACH both deposits and withdrawals are free.
Credit card deposits cost 5%
If you're trying to deposit USD from any other country using international wire you will pay a $7.5 fee at minimum or 0.05% of the deposit while withdrawals cost $25 minimum or 0.1% fee of the withdrawal.
The fee for withdrawing bitcoin from Bitstamp is 0.0005 ($25 at time of writing) and the fee for withdrawing Ether is 0.03 ETH ($60). For a complete overview of their fees check their always up-to date fee page.
How long does it take to withdraw money from Bitstamp?
How long it takes to get your money out of Bitstamp depends on which country you live in. In the UK it can be almost instant via the Faster Payment Scheme. In Europe it can take 1-3 business days until your funds arrive in your bank account whereas for international wires 2-5 days are the average duration.
Ethereum Staking with Bitstamp
As of recently, Bitstamp supports staking Ethereum, which means that users can earn around 8% APY on their Ether. If you have no idea what Ethereum staking is, we recommend reading this article but it essentially allows users to participate in the validation mechanism of the Ethereum Proof-of-Stake network where validators stake their ETH instead of burning energy like in bitcoins Proof-of-work.
The fee that Bitstamp takes for staking your ETH for you and taking care of the technical complexity of running a validator is 15%. This means that if you stake 10 ETH and you would have 10.8 ETH at the end of 1 year and would request a withdrawal, Bitstamp would take 0.12 ETH.
If you're looking for a cheaper option to stake Ethereum check out our list of the best ethereum staking platforms.
Which assets does Bitstamp support?
Bitstamp did a great job at adding new assets in the last couple of months. Especially in the decentralized finance (DeFi) sector.
Today Bitstamp supports the following cryptocurrencies and tokens:
Ether
Bitcoin
Chainlink
BAT
DAI
KNC
PAX
USDC
GUSD
OMG
UMA
ZRX
MKR
AAVE
BCH
XLM
LTC
XRP
All in all, Bitstamp is one of the best cryptocurrency exchanges worldwide. It belongs to the Tier-1 exchanges in terms of trading volume, security and reputation.