Bitstamp is a Luxembourg based cryptocurrency exchange founded in 2011 as an alternative to the infamous (then dominant) cryptocurrency exchange Mt.Gox. As such, it's one of the longest-standing bitcoin exchanges in the world.
It provides a quick sign-up, a user-friendly interface and trading of bitcoin, ether, litecoin, ripple and bitcoin cash against both US Dollars and Euros. While depositing Euros is free for users in the SEPA region, depositing US Dollars comes with a minimum fee of $7.50 as it has to be done by international bank transfer. Bitstamp also allows users to buy bitcoin via credit card - albeit for a hefty 5% fee.
Because of these fees, we think that Bitstamp is a viable option for users in Europe but users in other geographies should look for an exchange with a cheaper fiat on-ramp.
How to Sign-up for Bitstamp
Start by heading to the Bitstamp home page click on "Register". When asked about the account type you want to apply for, choose "Personal Account". Next, enter your name and email and of course, agree to Bitstamp's terms of use. A quick email verification (don't forget to check your spam folder) and you're signed-up.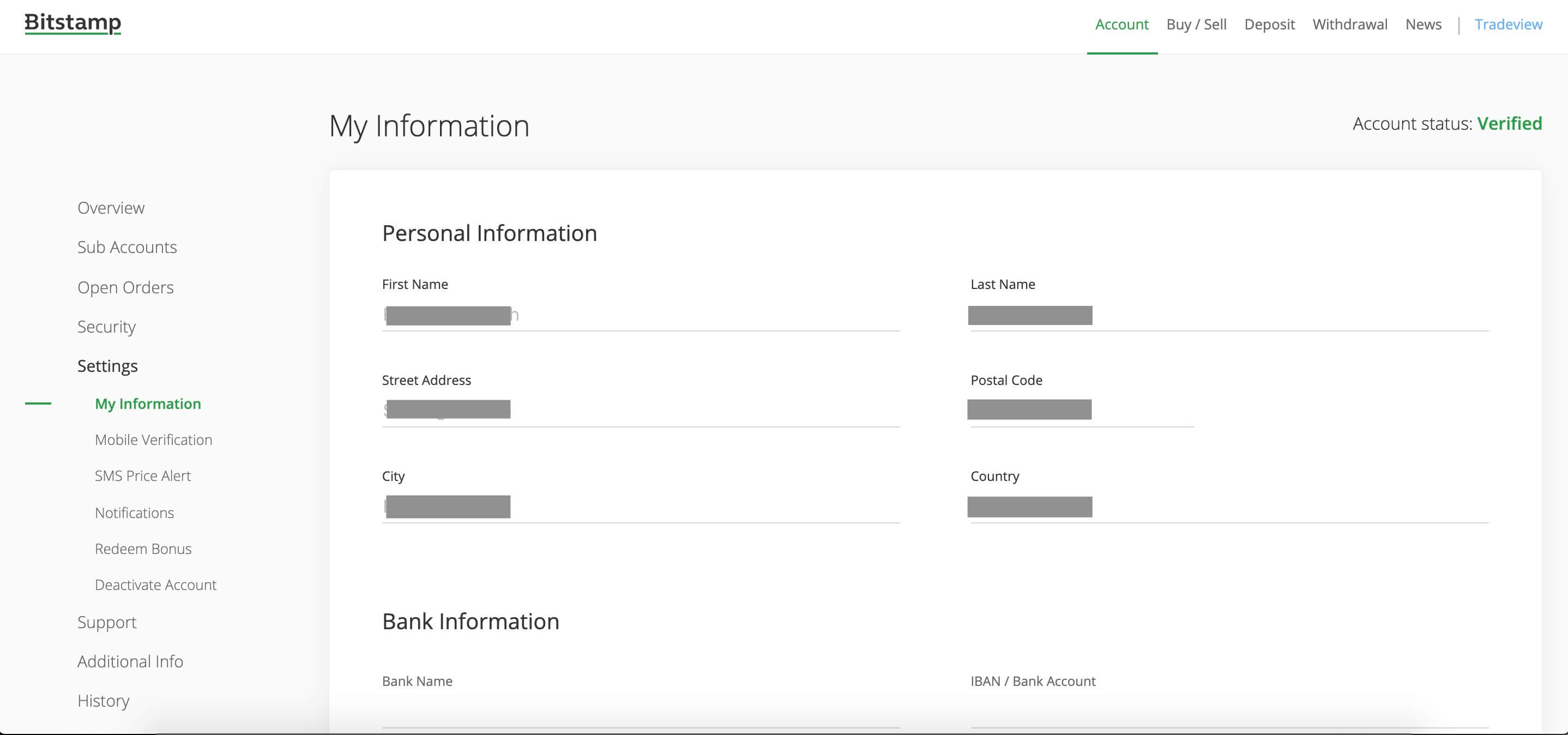 Once inside the Bitstamp dashboard, you have to enter your name and address and then verify this information by uploading a copy of your Government ID and a proof-of-residence (e.g a utility bill or bank statement). The bank information section, can be left blank at the time you sign-up, it's only needed when you cash out the proceeds of your trades and withdraw to your bank account.
To finish, Bitstamp will ask you some financial information relating to the source of your funds and how much you will trade. This includes info like your annual income, employment status etc. Now that you're signed-up, in order to do your first trade you still have to enable Two-Factor-Authentication via the Google Authenticator App. This is best done during the sign-up but can also be setup under "Account" >> "Security" >> "Enable". Two-Factor-Authentication acts as an additional security layer to make sure that it's truly you logging-in to your account. From the moment you enable this feature, you will be prompted to enter a 6-digit pin by the Google Authenticator app every time you Log-In, along with your Bitstamp password.
Depositing fiat on Bitstamp
Now that you have verified your account and enabled Two-Factor-Authentication, you're almost ready to make your first trade. To deposit fiat money, click on the user avatar in the top right corner. On the drop-down menu, click on "Deposit" and then "EU Bank SEPA" in the list of options. If you're outside the SEPA region select "International Bank" and if you want to buy crypto with a credit card, select "Credit card". On the next page, enter the amount of Euros you want to deposit and the currency you want to be credited in. It appears that you can make a Euro transfer and be credited in dollars - and vice versa. However, we haven't tested this and a conversion rate for swapping currencies might apply here. Using the bank information displayed by Bitstamp, go to your online banking and initiate a bank transfer to Bitstamp. Don't forget to include the transfer reference highlighted in orange or Bitstamp might have difficulties matching your account with the incoming bank transfer.
Buying crypto on Bitstamp
When you have received an email by Bitstamp informing you of the funds' arrival, it's time to head back to the exchange. First, you have to choose which cryptocurrency you want to buy, which is done by heading to your account overview and then selecting the cryptocurrency you want to buy. Alternatively, you can initiate a trade by opening the market overview tab in the navigation bar and selecting the currency pair (in our case ETH/EUR highlighted in red).
Both options will lead you to the "Instant order" page. Here you simply have to enter the amount of fiat currency you want to spend and the order form will display how much of the chosen cryptocurrency you can buy at this price. For this purchase type, Bitstamp's fee is always 0.5%.