NCelsius is a crypto lending platform that was founded in 2017 by Alex Mashinsky, Nuke Goldstein, and S. Daniel Leon and today is based in London (U.K.). In March 2018 the company issued its own native token, Celsius Network (CEL) through an Initial Coin Offering (ICO).
Today, Celsius is one of the largest P2P lending and borrowing platforms having processed over $8.2 billion USD in loans processed from over 600K users worldwide.
How does Celsius make money?
Celsius's business model is to lend crypto assets to companies using retail customer's deposits. Customers who deposit crypto assets are incentivized by receiving an interest rate paid out to them. Celsius works with over 260 institutions and state to be giving 80% of the revenue to their depositors.
According to Cointelegraph the company is "valued at $3.1B following independent review from Alpha Sigma Capital".
How To Sign Up for Celsius
Register with your details (they should match your ID)
Don't forget to enter a referral code (it's free money)
Deposit coins to wallet or buy them directly through the app (fees apply)
The Celsius App
The App is very neatly designed. On the landing page you immediately see your total balance next to your total reward earnings. All the coins that you currently hold are listed as either cards or bars, you can change the view with a single click. In the lower right corner you will always find the Celsius logo. This button opens up the App menu as seen below.
From there you can chose the following options:
Wallet: that's the main landing page Transfer: where you can deposit all supported coins Withdraw: where you can withdraw any asset you hold in your wallet and send to other wallets. CelPay: With CelPay you can send up to 2500$ worth of crypto for free to any contact that also uses Celsius App. Borrow: You can borrow stablecoins instantly by providing a collateral. With the calculator option you can calculate how much collateral is needed for a certain amount. Profile: Here you can change your profile details and App settings.
Lending on Celsius
Celsius pays interest on a weekly basis in the same currency that you deposited. You can also chose to get your interest paid out in CEL which increases the dollar value of your payout by 25%.
The reward tab is shown right in the app. If you click on it all reward rates for the different crypto assets are shown. Current reward rates range from 2.02%-17.78% APY depending on the currency and whether you chose to be paid out in CEL or in the base currency.
Payouts happen weekly and fluctuate according to the current interest rate. 40 different crypto assets can currently be deposited for earning. Among them are many stable coins such as USDC, USDT (Tether). These are coins pegged to fiat currencies which often aren't as volatile as cryptocurrencies but can be inflationary in nature. For mindless saving these coins can be useful.
Borrowing on Celsius
You can borrow cryptoassets almost instantly on the Celsius App. The minimum borrow amount is 500$ at loan-to-value (TLV) ratios of 25%, 33% or 50%. The interest rates you're paying on a loan start from as low as 0.75% and go up to 8.95% at the time of writing.
Let's say you want to borrow 1000$. A loan-to-value ratio of 50% means that you would need at least 2000$ in one of the 30+ collateral currencies in your Celsius wallet. These 2000$ will then be locked up until you pay back your loan + interest. If you choose to pay your interest in CEL you can lower your rate by a few percent.
How To Deposit Funds on Celsius
There are different ways to deposit funds on Celsius. The easiest and cheapest way is to send supported cryptocurrencies or stable coins from another exchange or your private crypto wallet to your Celsius wallet. This of course, only works if you already own crypto.
You can however also directly buy crypto with a credit or debit card right inside the Celsius app or alternatively transfer fiat money directly from your bank account.
Cedit / Debit Card on Celsius
Credit card deposits are handled by a third party service called Simplex and cost 3.5% (or 2.99% if you live in the European Economic Area or the UK).
To buy crypto with credit card in Celsius tap on the "Buy Coins" button in the Celsius App.
Next:
Choose the right payment method
Enter the fiat currency that will be used as payment.
Value of your request in the fiat currency.
Choose the cryptocurrency that you would like to purchase.
Enter the amount of the desired crypto.
Confirm transaction details
The last screen should look like the picture below.
According to support transactions can take up to 24 hours before being visible on your Celsius wallet. You can see your purchases by tapping on the "Total Wallet balance" in the app.
Buy crypto by Bank Transfer on Celsius
Fiat money transfers are handled through either Wyre or Coinify, depending on your location. They are significantly slower to complete but come at a much lower cost. A SWIFT transfer (most countries) comes with a 0.5% fee while an ACH transfer (selected countries) only costs 0.1%
To buy crypto per bank transfer on Celsius click on "Buy Coins" again.
This time instead of Credit Card, chose Bank Transfer.

Enter your email address and complete the Captcha test

Check your email inbox and enter the 6-digit code that you received

After you've entered the code press the Buy option

Choose your country

Choose the third-party provider for processing your payment

Complete the required steps
To complete the purchase, log in to your bank account and make a bank transfer to wire the amount that is displayed in the app to Coinify's assigned bank account. All bank information will be displayed in the app.
Once you make the payment it will take between 3 and 5 business days for the coins to be credited to your Celsius wallet.
How To Withdraw Crypto from Celsius
Withdrawing from Celsius is fairly easy and straightforward. As it's custom with many crypto products you have to whitelist your withdrawal address first.
This is a safety precaution that adds a step in helping prevent fund theft. In order to whitelist your address you have to do the following:
Choose the currency you want to withdraw
Whitelist the address you want to send to
After that you will have to confirm your withdrawal amount by entering your security code and/or your 2FA code (we always recommend you to use 2FA when possible) and an email confirmation.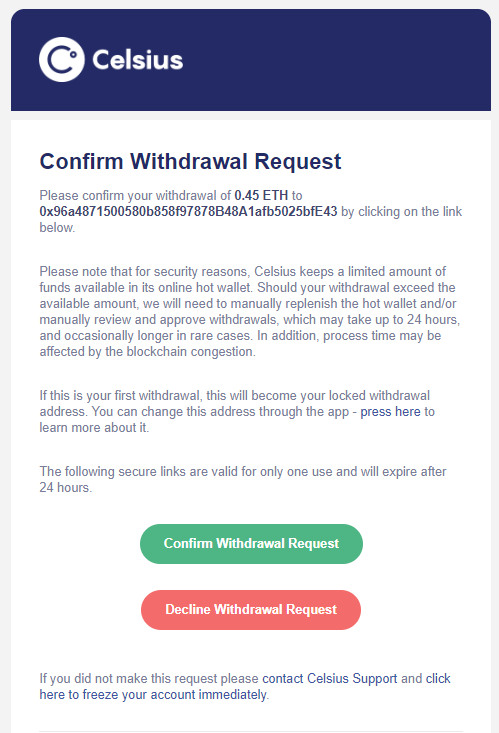 And that's it! Once the transaction is verified by the network they will be visible in your receiving wallet/exchange.
Referrals
Now here comes the juicy part. Celsius has interesting referral programs. Current users can give new users 30$ in BTC with their invite and earn 30$ in BTC for themselves. On top of that Celsius sometimes has bonus campaigns that often can used on top of the referral bonus. For these short term promotions make sure to check their website and social media channels.
In order to get your bonus however you need to follow some steps, a little patience is also required as the bonus is locked for 30 days.
These steps are required to unlock the bonus:
Complete the identification process at signup
Receive confirmation of account verification
Transfer 200$ or more of coins to your wallet
You have to maintain a balance of at least 200$ in order to unlock the bonus
You can withdraw any amount as long as min. 200$ remain on your wallet
Conclusion
Celsius Network offers competitive interest rates for lenders and borrowers alike while the Celsius app is very well designed and feels intuitive to use. The referral system works well and product loyalty is greatly rewarded.
Of course a web version would be handy but you get used to the mobile app quickly and the notification system with push and email always keeps you in the loop when it comes to reward and borrow rates as well as payouts.
A recent hack where user information was stolen (no funds lost) does raise some questions regarding security, however the team was apparently very swift to react and communicate transparently about the incident. They also send out a weekly newsletter with the updated lending and borrowing rates and host a youtube livestream AMA with one of the founders every Friday.